June 24, 2015 - J & R Santaprises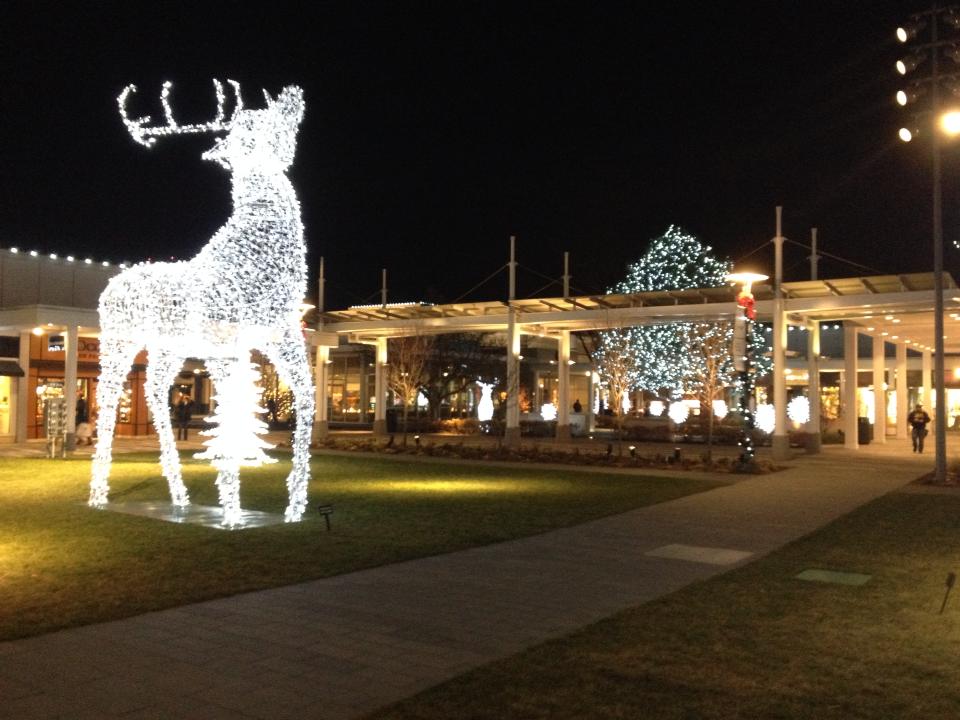 So, why is there a giant lighted reindeer on the top of this post, you might ask. Actually, there were 2 of them facing each other across the walkway when I first saw them at Oakbrook Center in Oak Brook, IL. Having just arrived to begin my season in the big chair, I immediately noticed how simple the decorations were yet they unmistakably conveyed the joy of the season.  If you ask me, this is what I always figured the North Pole looked like. No need for the big flashy displays, just string some simple white lights up to play off the snow.  Speaking of snow, Oakbrook Center is an outdoor mall. In Chicago. In December. Yes, this Christmas season was going to be a little different for this old Georgia boy!
After that season, I knew it was time to bump up my wardrobe. My existing velvet Coca-Cola style suit was still perfectly fine, but I needed another suit (or two!) to meet the demands of a full-time mall Santa gig. I also knew that I wanted a suit that was uniquely mine, one that people would see and know "That's Santa, I saw him at Oakbrook!" Thus the search began. At a local Santa gathering in metro Atlanta, I talked to another Santa who I knew had just purchased a new custom suit and asked where he had it made. This is how I found the ladies at J & R Santaprises.
At our first meet and greet, they were curious about what I wanted in a new suit. There were three things that I had to have in my new suit. #1 was a long robe with a hood. To get back and forth from the changing room to the Santa set required walking outside, … in Chicago, … in the snow. The robe would help keep me warm, protect the suit, and keep the snow off my head. #2 was a vest. Not just a coordinating vest like I had worn before. I wanted a vest made of the same material as the pants so it looked like it was actually part of my suit. I also knew there would be other benefits to wearing a vest on the set including feeling cooler in the chair, more approachable by timid children, and, after all, that's probably how Santa dresses when he's at home. Do you wear your coat once you come inside? #3, it had to have reindeer embroidered on it. I loved the look of those giant, white lighted reindeer and I wanted to represent them on my suit. The only other stipulation, which I would recommend for every Santa, was I wanted the flexibility to expand the wardrobe 1 or 2 years down the road, using the same theme.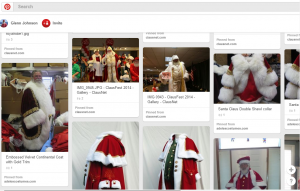 After they assured me they could design and create my perfect suit for me, we got down to business. They took measurements and left them a deposit. I then went home and created a board on Pinterest where I could convey all the things I liked about other suits, and pictures of what I didn't want. Of course, I had some pictures of those reindeer, too! We exchanged some emails and phone calls and I left them alone to work their creative and artistic magic.
A couple of weeks later, they called and said they were ready to show me their concept of my new suit. To say that I was pleased with what they had come up with would be an understatement and I'll share some of that in my next post. Meanwhile, here's a hint: