Design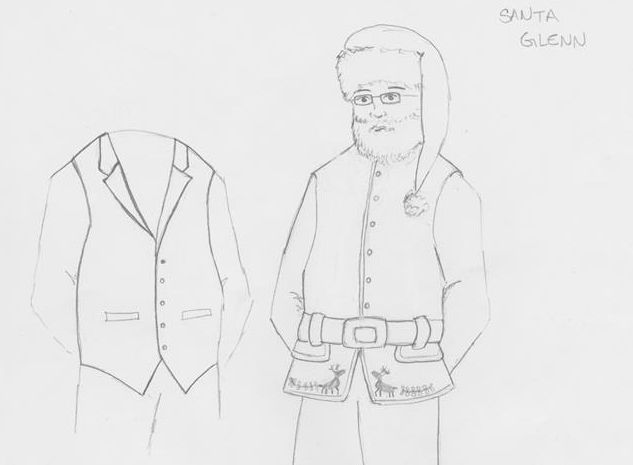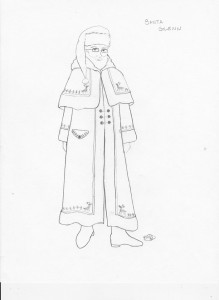 Basically, all I knew is I wanted a new Santa suit. It had to be the basis of a full wardrobe and different from my existing suit. I wanted a full, parade style robe to keep me warm during the outside walks to the set in Chicago. I wanted my primary look on the set to incorporate a vest to present myself as being more 'at home'. Oh, and I wanted REINDEER!
What Elizabeth came up with just blew me away. It was if she had crawled into my head and pulled out my vision. My ideas were so varied and strewn all over the place and she was able to hone right in to the items that were most important to me. The robe looked majestic. The fur down the front mimicked a traditional suit, which is totally different than my current, Coca-Cola style suit. The cloak added the extra punch that would be sure to wow everyone on my walk to and from the set. The gold buttons and chains across the front added that touch of bling. And there were reindeer. What I loved about the reindeer is they were not overpowering, but looked appropriately scaled to the overall look. They were also standing, facing each other, just like the real lighted reindeer at the mall that was my inspiration for the whole outfit. And even though this is two separate pieces, the robe and the cloak, the combination is still a cohesive look and not over-bearing in the least.
But this was just half of my outfit for this year. This would take care of me walking between the set and the break room or dressing room, but this is truly a small fraction of our time as Santa. What I really wanted to see was how I was going to look while I was on the set! Then Elizabeth broke out the next sketch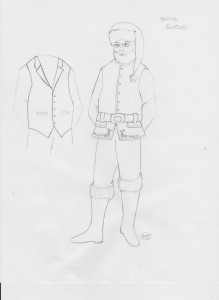 … Again, she had captured exactly what I wanted even though I didn't know how to articulate it in words. The first thing I noticed was that I would still be able to use my over-sized Santa belt. I think most seasoned Santas will tell you, start your wardrobe with a quality belt and a quality pair of boots. You can add the rest later as your budget allows. I had done that, spending more on my belt and boots than I did on my entire first suit. That belt is what people expect to see when they go to Santa and I was happy to see it incorporated into the look for the set. The other obvious detail that caught my eye, the reindeer were there at the bottom, facing each other, just like the robe and the cloak. This was obviously a "suit" and not just some random clothing pulled off the rack. She also designed a separate, more formal vest, to be used as a companion piece. The idea was to have a coordinating fabric to give another, and to break up all of the red.
During the presentation of the design sketches to me, both Elizabeth and Brittany were anxious to get my feedback and to start developing some of the details. As you can imagine, the first topic of discussion was the reindeer embroidery. Just as I had created a Pinterest page to convey my inspirations to them, they created a Pinterest page to be able to show me some of their ideas. Their original concept of the reindeer embroidery was beautiful, completely filled in, full of detail. But these didn't represent the reindeer of my vision. The reindeer at the mall were a large metal framework with white lights attached to them. My reindeer should reflect that open, wire-frame look, much more stylized and less realistic. As you can see in the sketches, there was more embroidery than just the reindeer. There really did need to be something more than just a couple of deer looking at each other, there needed to be a ground work of something to pull them together. Exactly what, none of us knew at that point.
Categories
May 2023
M
T
W
T
F
S
S
« Jun
1
2
3
4
5
6
7
8
9
10
11
12
13
14
15
16
17
18
19
20
21
22
23
24
25
26
27
28
29
30
31