Besides a great suit, every Santa has additional clothing needs. J&R Santaprises can meet your off season or business casual wardrobe requirements.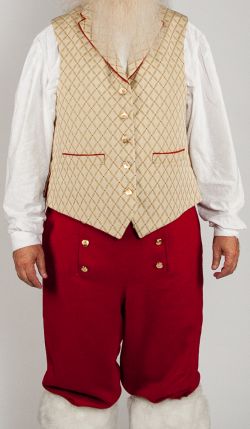 One of the first things on Santa's wardrobe list will be a shirt that expresses his best-dressed look. We will work with you to design the shirt that brings out your personality.
Since our shirts are custom-made, you will have input on the type of collar, neckline, cuffs, even the amount of puff in your sleeves. We even have a variety of buttons to help make your shirt distinctly yours.
There are any number of accessories that can be created to coordinate with your new suit:
Overcoats – continental, duster, full-on parade robe, cloaks with or without a hood, jabots (for a Victorian Santa), or a special Santa bag to give a finishing touch
Many Santa's like an additional vest, either to vary their wardrobe or for a fun off-season look! Just like our suits, each vest is exclusively designed for you: fabric choices, cut of the neckline, collar style, piping, buttons, hardware, and embroidery – you will want more than one!
A traditional Santa hat is not always appropriate at those off-season affairs. Let our millinery expert work with you to design and construct a hat that is perfect for your needs.
Not Ready for a new suit – working with local Santas, we have developed the J & R Santa Hat (patent pending), it has internal architecture to provide your desired lift of the stocking, and wears just like a man's hat.
Try one on, it will be nothing like any other Santa hat you've worn!
Let us know what we can design and make for you!