It's not just a suit for Santa or a dress for Mrs. Claus. Its also about the design details that go into them and the embellishments that accompany that design.
Let's start with Santa's pants. There are things that we feel are necessary for Santa to have a comfortable pair of pants. Though our pants are custom made for each Santa based on his specific measurements, we know that for a pair of pants to function properly, there has to be a little extra room in the seat. And pockets! We will work with you to create and place pockets to meet your needs; front pockets, back pockets, secret pockets! It's all possible! It's that special little touch that you don't have to think about and we wonder why everyone doesn't do this.
Clip on suspenders? Not with our pants. We sew in suspender buttons so you can attach proper suspenders. This takes away the worry of a clip letting loose at the most inopportune time, and yes, it has happened to Santas we know. We use our knowledge gained from the theatre to handle the problem with keeping your pant legs tucked into your boots. All of our pant legs are cuffed with spandex to comfortably hug your lower calf and keep your pants leg down. No leg creep or uncomfortable stirrups on our pants. Or, if you choose, we can create your perfect pair of knickers if your look doesn't include boots! You can also choose what type of closure you want in front.
The biggest complaint we hear from Santas about their coats is they look great when they are standing up but just don't lay right while they are sitting down.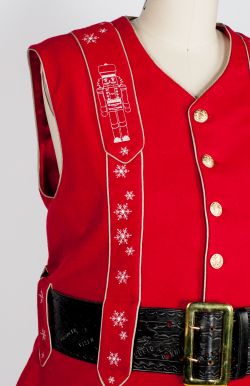 Again, our years of knowledge from the theatre gives us the perfect solution. With our coats and long vests, you will find side slits that allow the front of the coat to move independent of the back when you sit. Not only does it look better from the front, it's more comfortable to wear while sitting. The best thing about the vest and coat is the amount of area that's available to personalize. The easiest way to customize your suit is to design the shape and any embellishments to your coat and vest. These design cues will be carried out through your entire suit and can easily be incorporated into additional pieces that may be added in the future. Since the suit is custom made for you, we can do things such as modify the shape of the lapel, change the length of the coat and vest, and embellish with embroidery and/or trim. We have thought of everything including replacing dome shaped buttons with flat buttons that fall under your buckle. You can optionally make your fur collar removable which not only gives you a different look for your coat, it can be removed before sending the suit to the cleaners.
We're sure  you will find that our attention to details is unmatched in our industry. In fact, we provide 3 years of minor upkeep including hems, trim repair, patches and resewing buttons.