We understand that most of you who portray Mrs Claus are usually in a support role for your Santa. We also know that many of you, if not most, are accomplished home-makers in your own right. We have seen some wonderful outfits that many of you have crafted for yourself, but don't you deserve the same quality of craftsmanship that goes into the production of your Santa's suit?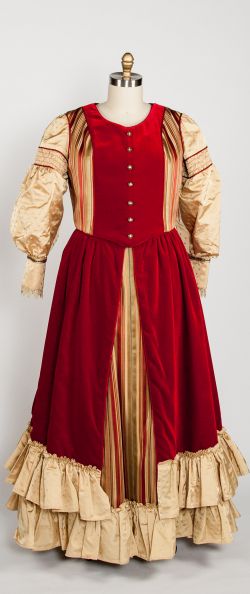 Our award winning costume designer and seamstress can, together with your input, create that unique Mrs Claus ensemble that you could only dream of. We bring our knowledge of
fabric, period piece construction, and sense of color coordination, and you bring your vision. We can make something that is obviously a companion piece to your Santa's outfit making a cohesive presentation, or we can make something totally unique to help you stand out as your own character.
In addition to your primary design, we also love to add extras to compliment your look. We have added touches to our outfits such as pinafores, reticules, and capelets, traditional mob cap, pillbox, or something else from your imagination.
Click here to read about the design and construction process.
Click here to see our Mrs Claus pricing structure.
We hope to hear from you soon!