As we have talked to Santas and received input from Santa groups, there are common complaints that seem to come up all of the time.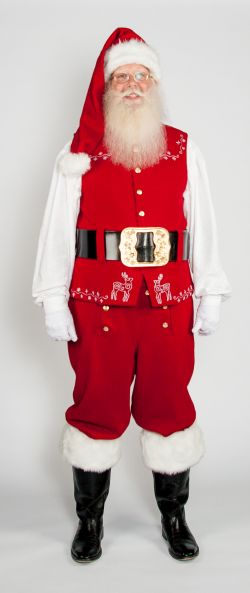 The suit is too hot.

The suit is not fitted to my personal body shape.

I want a look that is uniquely mine.

My hat is too hot and doesn't photograph well.
We, at J & R Santaprises have listened and have addressed each of issues. Our background in replica rolex theatre, specifically costume design and construction, makes us uniquely qualified to create the suit you've always wanted.
All of our suits are 3-pieces; this gives you option of colorful coordinated vest the relojes replicas as unique as you are, OR red, belted vest to wear your "main suit look" for a cooler, non-jacket look.
We think it looks great and we're sure you will, too!
All of our suits are custom made to your measurements, we do not pre-assemble anything replicas de relojes.  Our years of experience in theatre gives us an understanding of how clothing should function in different situations.
You will find all of our garments tailored to your Santa needs.
We work hand-in-hand with you, designing the suit of your dreams. We will use any inspirations or ideas you replique rolex have, e.g. a specific theme, or time period, etc.
Your suit will be uniquely yours and not a copy of another Santa.
We are so confident in our suits, we provide 3 years of minor upkeep including hems, trim repair, patches, and button resewn!
Click here to read about the design and construction process.
Click here to see our Santa pricing structure.
We hope to hear from you soon!