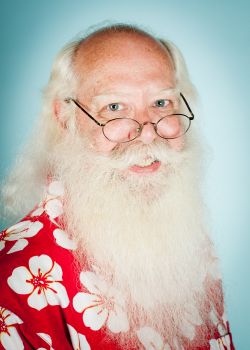 Duties: Glenn is the webmaster for J & R Santaprises. As a professional Santa Claus, he is also active in the local Santa Claus communities and a member of ClausNet.com Glenn enjoys singing the praises and showing off all of the hard work J & R Santaprises has put into his 56 piece custom wardrobe
Bio: Glenn has served as webmaster for over a half dozen websites during the previous ten years. A member of IBRBS (International Brotherhood of Real Bearded Santas), a graduate of both Santa Claus Academy and NorthStar Santa School, he also holds a Master of Santa Claus from IUSC (International University of Santa Claus). Glenn has faithfully been portraying the man in the red suit since 2010. Along with his duties at J & R Santaprises, Glenn also enjoys refurbishing and re-purposing home decor items. During the Christmas season you can find him at The Santa Experience at Oakbrook Mall in metropolitan Chicago, IL.
Favorite Cookie: Round ones!
Favorite Christmas Gift From Santa: A shiny red 26″ bicycle when I was 8 years old.